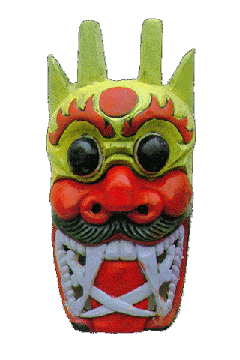 Meng Longtan, a citizen of Jiangxi, lived in the capital of the province in the house of a master of arts by the name of Zhu.
One day their steps led them by chance to a temple where they found neither impressive interiors, nor cells suitable for meditation, nor anyone else apart from an old, shabbily dressed priest. When he caught sight of the visitors he straightened his garment, went to meet them, and then guided them here and there. He pointed out the statues of the immortals. The walls on both sides were prettily painted with realistic pictures of men and animals. The eastern wall depicted a group of fairies, among whom stood a girl whose loose tresses, not yet tied into a matronly bun, betokened a maiden. Smiling, she was plucking flowers, her cherry lips seemed to move, the moisture in her eyes to overflow. Zhu contemplated her a good, long while, unable to take his eyes off her, until everything around him except the picture vanished.
Suddenly, he found himself floating in air as though he were riding a cloud, and it happened that he passed through the wall into a place where chambers and tents other than those of mortals were ranged in neat rows. Here an old priest, surrounded by a dense throng of listeners, preached Buddha's law. Zhu joined the crowd. After a few moments he became aware of someone gently tugging at his sleeve. Turning, he saw it was the girl from the picture, who now walked away laughing. Zhu lost no time in following her, passed along a balustrade, and came to a small apartment which he did not dare enter. But the girl glanced behind her and waved her bouquet of flowers at him as though to beckon him in. He entered and found himself alone with her. Instantly he embraced her- without any resistance on her part.